I should be asleep right now, but I went to bed at 8:30pm and this is what happens when I do that. I wake up around 11pm and am up until 3am. Blah! I am not going to be fun to be around tomorrow. But anyway- on with the posting!
D and I did a little Christmas shopping tonight. We got most of it done I think, there are still a few things I want to get and we have to hit up wal-mart at some point and get more for Bug because we couldn't find too much anywhere else. Annoying. So far this is where we're at:
Drama Queen

Activity trunk (complete with beads, stamps, ect.)
2 barbies
Package of 3 little ballerina pandas that go with Barbies
Purple fuzzy slippers
Crayons (stocking)
Princess Coloring books
Princess "flute" (stocking)
Princess stamp set (stocking)
Pink bracelets (stocking)
Sword (stocking)
G
Police Helecopter
Nerf Shotgun
Extra "ammo"
Toy Story stamp set (stocking)
Hulk poster
Spiderman poster
Iron Man poster
Sword (stocking)
D also went in Dollar Tree and got a bunch of stuff that I haven't seen so I don't know what else there is lol.
Bug
Toy Store Tray
ABC's Color book
123's Color book
Fishing set bath toy
Mini potato head
Guns (otherwise there would be fighting over G's *sigh*)
T
Pool stick
Pool accessories
I still have to get a little something for T for his stocking even though D says it's not a big deal. We usually spend a
ton
of money on Christmas for him, but last year we got him all this different awesome stuff (things he wanted) and he hasn't touched any of it since he opened it. So we're not spending a ton on him this year. I also still need to go to Barnes & Nobel and look for a journal for Drama Queen and G wants a Sponge Bob operation game lol. So I thought I'd go ahead and pick that up for him. Bug obviously needs a few more things and some stocking stuffers (depending on what D got that I don't know about). I don't want to see anyone disappointed is my deal. I hate it when kids feel disappointed.
In other news, tomorrow is my great-grandmothers funeral. I was informed that because there are so many people attending that I should be there 8:45am even though it doesn't start until 10am. Since I went to bed early, I was not made aware of this fact until 11pm. Super fun. I have to make sure D doesn't leave for work in the morning because he's watching Bug for me. I also have to pick up my mother. I went and bought a new shirt and new pants today, I think they look nice. I did a better job of picking out my clothes this time around than when my grandpa died. Is it odd that I haven't cried? I know I'll miss her, I know I'll probably sob like a baby tomorrow. But as of right now, I'm not grieving or anything. Is that normal?? I didn't with my grandpa either though I guess, I let it all out at the funeral, broke down into tears and couldn't stop crying for anything. I don't know. If I never went to another funeral again, it would be too soon. This is 3 in 5yrs. I think that's enough now.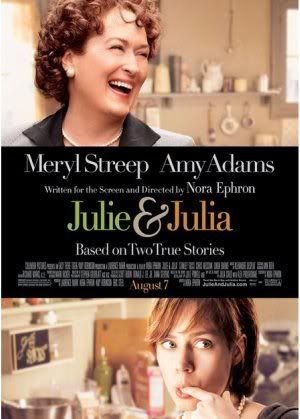 In lighter conversation (because that was a downer..) I watched
Julie & Julia
the other night!
Lindsey
was right, it's
great
! It made me super hungry though lol. All that awesome food she makes is so delicious looking that it actually inspired me to cook. I made scrambled eggs. Don't hate, I love scrambled eggs ;). The story line itself was amusing also, I am a big Meryl Streep fan though. I really don't think I've seen a movie that she played in that I
didn't
like. Can you think of a bad one? Anyway- it's really good, go rent it!
A movie I do not reccomend (unless you're striving to waste 2hrs of your life you will never get back) is Inglorious Basterds with Brad Pitt. This movie was so painful to watch that I couldn't even make it through. I got about 20min. in and left the living room to go take a bath. D was still watching it. When I got back to the living room half an hour later it still sucked and D was falling asleep. *sigh* So don't even bother with this one folks. It's boring as hell, not funny, not good acting, there is just nothing good about it.

OK, I think I've taken up enough of your time. I should be getting to sleep now, it's almost 2am. Thanks for reading if you made it this far.